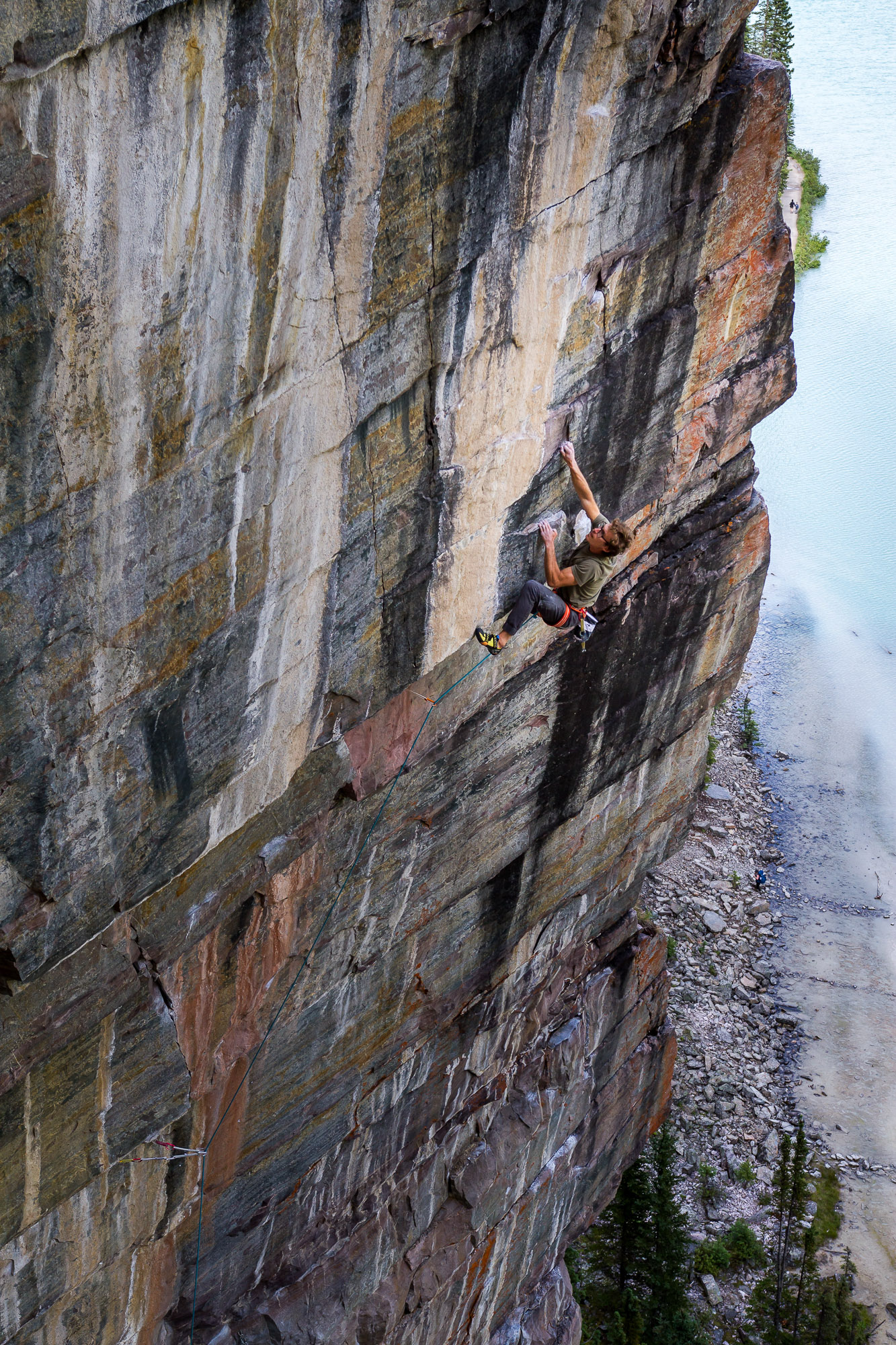 The Path
"The Path," at Lake Louise, Banff National Park, is one of those iconic lines in North America that I have known about for a long time. The climbing on the beautiful 45 meter face looked excellent and the backdrop of Lake Louise provided a setting hard to beat. It's become a test for those who want to push themselves on gear, but seemed ultimately safe. All ingredients for a classic rock climb.
It was bolted back in the 80s, but had not seen an ascent until Sonnie Totter got to it in 2007. After inspecting the route, he found that it could be lead safely on gear, although with considerable distance between pieces at times. So he chopped the bolts and climbed the line naturally, rating it 5.14a R.
I hadn't thought much about attempting The Path until I made plans to spend four weeks in the Canadian Rockies to attempt some of the classic hard multipitch routes. After giving it more thought, I realized that getting on The Path should be a priority. It had all of those good ingredients and it also seemed like it would suit my strengths well. 
After climbing Castles in the Sky (5.14a, 7 pitches) on Castle Mountain and The Shining Uncut (5.14a, 9 pitches) on Mt. Louis, in only two days of work each, I needed a break to recover from putting in multiple long days in the mountains. Mike Kerzhner and I planned to spend a few casual days checking out Acephale, Cougar Canyon, and Lake Louise, some of the best crags in the area. Going to Lake Louise, our intention was to just toprope The Path a couple times, figure out how much of a project it would be and come back to it later.
We arrived at Lake Louise at 7am on a holiday weekend, just in time to get one of the last parking spots. After getting some coffee at the hotel, we went straight to The Path and set up a toprope. The first half of The Path is one of the most popular 5.11s in the area, so we had to stake it out early. On my first toprope attempt I was surprised to find that it didn't feel that bad. The gear seemed good and it climbed really well. Maybe it wouldn't be as much as a project as we thought. I decided that I'd try to see how far I could get on my second toprope attempt and ended up getting to the top without falling! I didn't expect to give it an attempt on lead that day, but that was the next step! Mike and I talked through the gear and were pretty satisfied with our selection. It was time to go for it!
I was nervous and scared though, and unsure of my beta at the first crux, peeled off. The gear held and I pulled back on. I took another fall at the redpoint crux on a Black Diamond red X4, one of the smallest cams available. It held too. I needed to get all the jitters out and get used to the feeling of being runout over small gear. After taking some falls, I knew I was safe. I thought I had one more attempt in me. 
Our friend Ycbrand Nusse jugged up a nearby line to take photos and I started off on my second lead attempt, fourth attempt that day. I felt relaxed but a bit tired. At the first crux I struggled to get some gear in, but stayed calm and made it through. I recovered well at the next rest, confident that I would at least make it to the redpoint crux. The redpoint crux was not that hard for me though—I just needed to be confident and execute. Iron cross to the bad crimp, bring the left foot out, cross to the slippery bad crimp, and grab the good hold. I did exactly that. I enjoyed the last bit of runout climbing to the anchors in disbelief. I had just sent The Path in a day!
If The Path really is 5.14, it would be my first 5.14 in a day. I don't think it's physical difficulties are 5.14, maybe just 5.13d, but if the mental element is factored in, maybe it deserves 5.14a.
I was not even halfway through our four week trip and had ticked three of my four Canadian Rockies life list routes. I thought if I was lucky, I'd send just one or two! This trip has been a dream. I've been truly in my element!