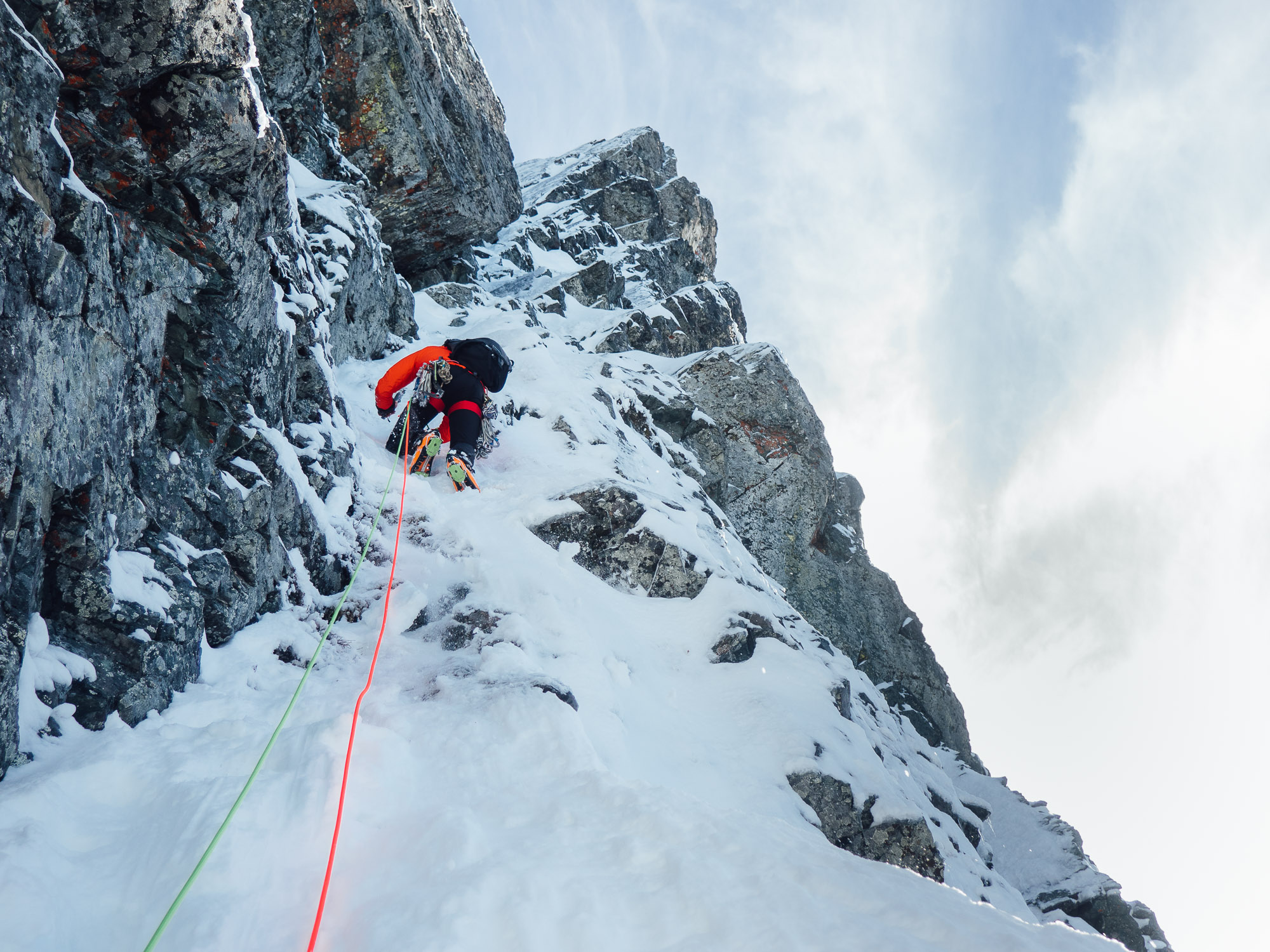 New York Gully
New York Gulley has been one of the main objectives on the winter ticklist for us. It was potentially the perfect route with serious and interesting climbing to do in decent time Seattle-to-Seattle. We were a little too eager to climb it this season. Excited from the early cold temperatures in December, we climbed the first pitch of the direct variation, but decided to bail due to slow, precarious movement on a route that was not in condition.
After a very busy holiday season, we were finally able to attempt it again last Friday, the fateful inaugural day, which was declared by him we shall not name, "National Day of Patriotic Devotion." I'm not sure we had our priorities straight that day. We made it to Snoqualmie Pass and found that freezing rain and wind had obliterated the area. No one had been up there for days. All the lifts were closed. We started putting in a skin track through 5ish inches of heavy snow sitting on a layer of ice. The ice was causing us to slide around everywhere. We were moving incredibly slow. Too slow. And it wasn't fun. We bailed after not making it up even a quarter of the approach.
Third time's the charm, right? We decided to go for it again just a few days later, on Monday, January 23rd. Travis was at my house at 7:15am after dropping his two-year-old, Sawyer, off at their nanny's. Being the main caretaker of a toddler while his wife finishes up her residency is wearing on Travis a little, to say the least, and making it difficult for him to get into the mountains as often as he'd like. But we were thankful that he has a great nanny who will take his son as early as 7am. No alpine start, which means we needed to move efficiently. We were at the Alpental parking lot around 8am and found slightly better snow conditions and a skin track. Things were looking a lot better for us. We left the truck at about 8:15, skinned up a couple thousand feet of elevation, making it to the ridge over-looking the intimidating north face of Snoqualmie Mountain at about 10am.
We ditched our skis and descend down below the face and then slogged up to the base of the exposed snow ramps that marked the beginning of the route. When I pulled out my crampons, I realized I had grabbed my wife's set and that the straps were cut too short to fit over my ski boots. I threaded the strap through the toe and immediately back to the buckle, leaving the other side of the heel loose. Amazingly, the lip on the heel of the boot was enough to keep it secure.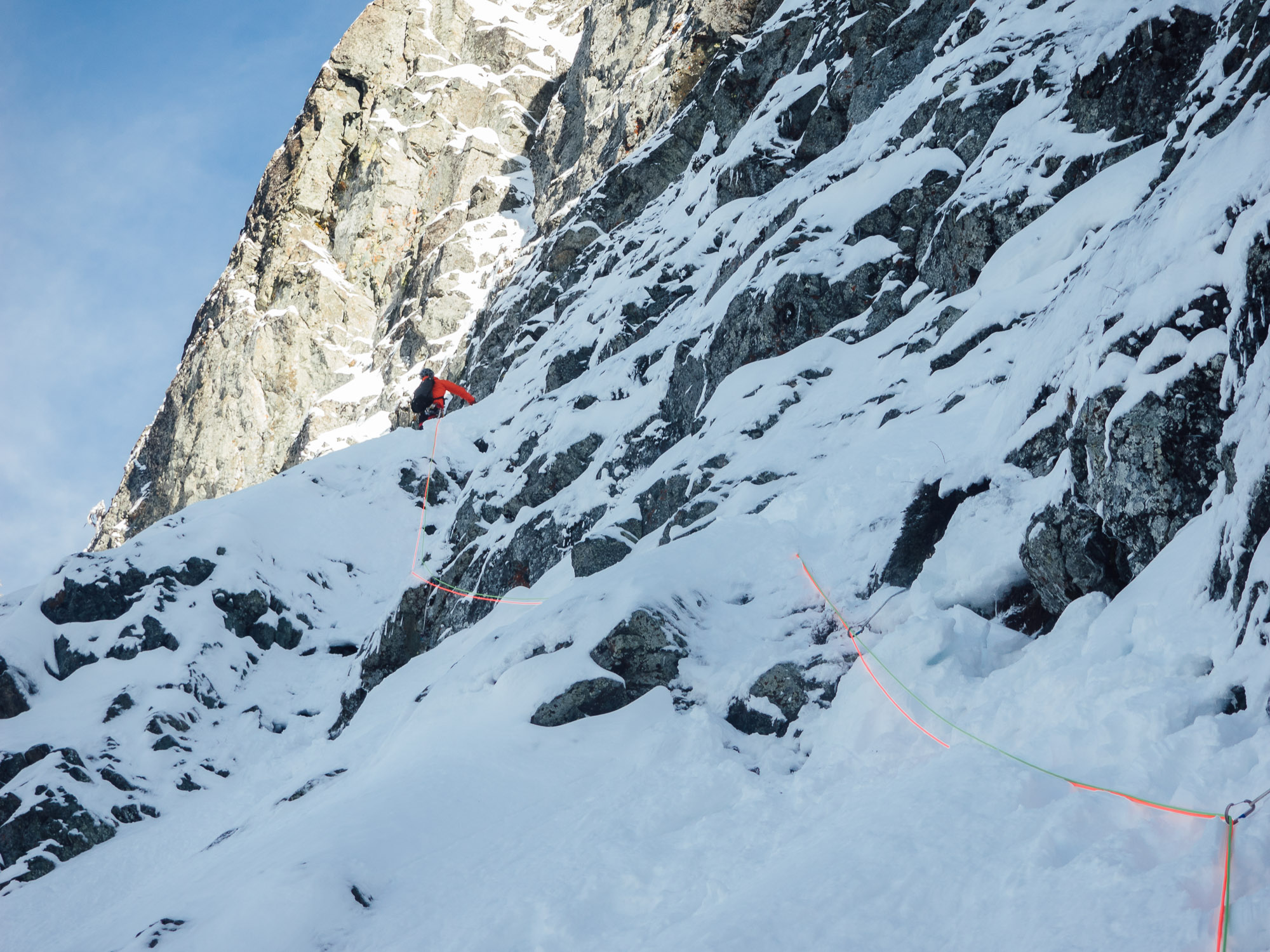 I led the easy first pitch, probably 50-60 meters, placing one cam. Travis led the second pitch, a traverse to the left with an occasional short steep step, bringing us to a belay off a dead tree at the base of the main bit of the route—a steep rightward leaning ramp. Because I'm new to this kind of climbing, Travis took off again. He made quick progress, finding decent protection and several fixed pins. Around 40 meters up, on a steeper step, his pick and front points blew at the same time and his body silently fell backward. The rope started pulling though my belay device. I grab it, brake it, and get pulled into the snow in front of me. "Are you alright?" I yell up to him. I think I hear a "yes," as Travis slowly gets back up and starts to climb again. An old pin held his fall—his first alpine fall, a fall many people never take.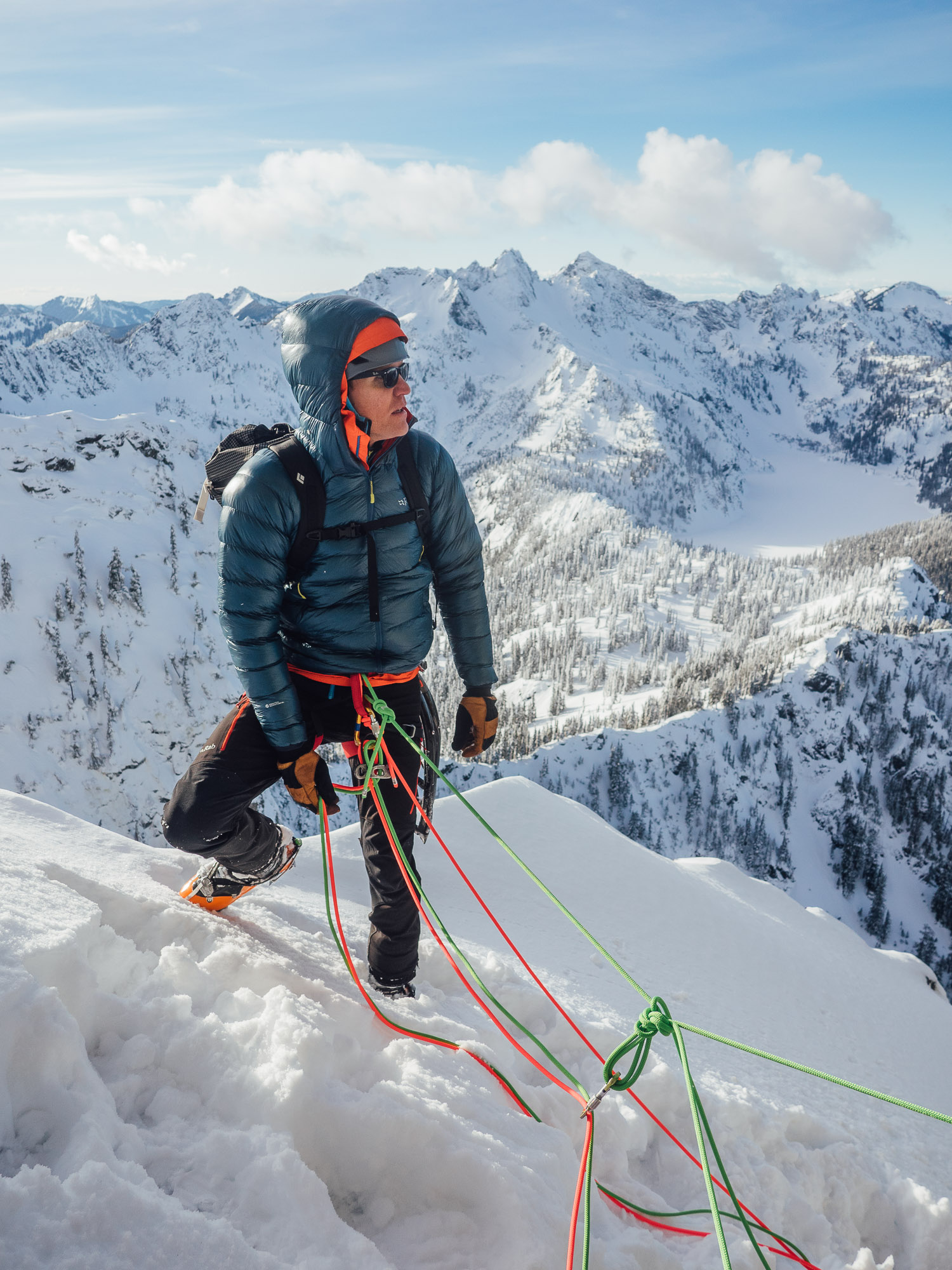 The climbing on the third pitch was steep and interesting, involving all kinds of frozen stuff to poke, and a bit of rock grabbing as well. Travis again took the fourth pitch as the ramp continued rightward up one last steep section to easy climbing taking us to the base of the route's crux pitch, "the 5.8 crack." That doesn't sound intimidating, but climbing a crack covered in snow and ice while wearing ski boots isn't easy. I took this pitch, so I wouldn't feel like a total wimp, pulling on a couple pieces and then tiptoeing above small cams in icy cracks to the top of the route. Travis followed by free climbing the pitch, saying it was "actually kinda hard." We exchanged high-fives, happy that we finally got to climb the route. We unroped and carefully walked off to the right and descended back down to our skis.